Mon, 07/30/2012 - 4:52pm

— rayw
(Surprised this one hasn't been reviewed here, either: http://www.fearnet.com/search/message-boards/term%3A3643%20bloodrayne)
Well, mesmerized by the fantastically cr@ppy (and relatively EXPENSIVE for outcome!) threequel 'BloodRayne: The Third Reich' I watched on demand via FEARnet I just HAAAAD to try to see the others before it! 
BloodRayne (2005)
Ratings: 2.8/10 from 24,319 users
Genres: Action | Adventure | Fantasy | Horror
Budget: $25,000,000 (estimated)
Total Lifetime Grosses:
Domestic:
$2,405,420
  65.9%
+ Foreign:

$1,244,855

  34.1%
985 theaters, $1,573 average
Widest Release:
985 theaters
In Release:
21 days / 3 weeks 
"BloodRayne, the maiden nationwide release from Romar Entertainment, fared even worse. Up until opening day, the distributor said it had close to 2,000 theaters lined up for the latest video game adaptation from director Uwe Boll..., but then on opening day that number was knocked down to 985 theaters. On Monday, Romar projected an estimated $1.55 million for the weekend, although other distributors had the movie closer to $1.2 million." BOM
"The half-naked prostitutes in the scene with Leonid (Meat Loaf) are actually real Romanian prostitutes. According to director Uwe Boll (at the Stockholm International Film Festival) it was cheaper to hire real prostitutes than actresses." IMDB
You know, some critics actually complained about his casting of real prostitutes.
Beats me. It makes good business sense.
It's not like a "real" actress would have or could have performed the human-sex-slave-to-a vampire characters any better. So... Shaddap.
However, Meat Loaf was quite horrid. THAT was something worth complaining about.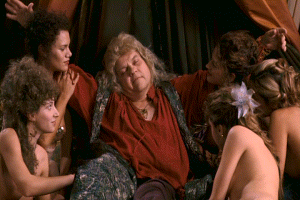 "The film was nominated for six Golden Raspberry Awards including, Worst Picture, Worst Actress (Kristanna Loken), Worst Supporting Actor (Ben Kingsley), Worst Supporting Actress (Michelle Rodriguez), Worst Director, and Worst Screenplay. Bloodrayne did not win any, as it was dominated by Basic Instinct 2 and Little Man with seven nominations each.
In 2009, Time listed the film #6 on their list of top ten worst video games movies.
The film was number one on Gametrailers countdown of the worst video game movies ever. The reviewers from Gametrailers said that "every actor is miscast, every wig is too fake, every sex scene is too inappropriate, and every action scene is too improvised."" Wiki
The acting wasn't so bad as the script was pretty cr@p, apparantly much to Uwe's credit as described by the screenwriter, below.
"BloodRayne is an absurd sword-and-sorcery vid-game adaptation from schlock-maestro Uwe Boll, featuring a distinguished (and slumming) cast." BOT
Well... I watched it. 
Fast-forwarded with subtitles through much of the stilted dialog and blathering.
Got to see the T-X's ta-tas again! (Thanks, Uwe!) Meh. Standard issue. Not worth watching this film for.
$25m estimated budget, eh?
Goodness.
$3.6 theatrical take. Hmm. Shocker.
I think someone had a complete brain fart when they looked at this
expensive-@ss
screenplay (there was little way to do this any cheaper, and the costumes + sets + locations + SFX did look pretty decent enough) then considered the dialog the characters were expected to vomit and then thought "Yeah! This'll be great!"
I don't know if the producers were disrespecting gamers, or what.
Rayne's first set of swords looked pretty cheap and
cr@ppy
, though. In fact, most of the weapons looked cheap and
cr@ppy
.
What are those? Effin' butter knives? Pfft. Please.
And while visually rich with great camera movement & blocking is great, there is quite a bit of visual & stylistic difference between this film and 'Third Reich.'
Might be the different cinematographers, might be the director. Ain't no telling.
I thought Loken did fine.
I have no idea WTH Ben Kingsly was doing in there. He needs to cut his agent's pay in half for that one.
Michael Madsen can't shake 'Mr. Blonde.' And take that stupid effin' wig off! Good Lord.
I've never been able to get a bead on Michelle Rodriguez. ???
Billy Zane. Pfft. Whatever.
Go UDO! Freaky dude rocks! Someone needs to write something for him before he dies. (Just watched '
Moon
' [psst! $5m!] which was specifically written for Sam Rockwell. Very nice.) I hope Udo has a good part in '
Iron Sky
.'
'Bloodrayne' is a good example of having all the right elements & assets in place and not knowing what to do with them. 
Could have been good.
OMG! I almost forgot! If you get this on DVD (maybe on bluray) there's an extra where some schmuck and his sidekick girl are interviewing Uwe Boll while they're eating a meal and drinking wine at a
cr@ppy
little table in a corner. LMAO! It was too painful to watch them eating on queue and talking with food in their mouth. 
Very casual and natural. 
NOTTTT!!!! Pfft. Losers.
Turned it off in less than a minute.